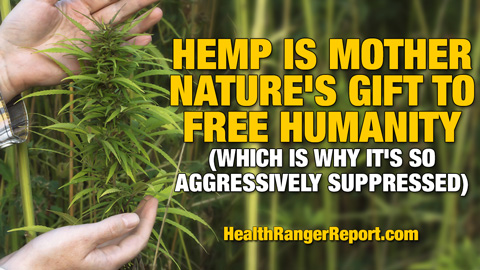 Hemp is Mother Nature's gift to humanity, offering an abundance of medicine, healthy omega-3 oils, remarkable natural fibers, proteins and powerful medicines known as "cannabinoids."
Yet the governments of the world (and the pharmaceutical giants that influence them) have suppressed hemp for generations, denying humanity access to this extraordinary plant that revolutionize agricultural freedom, economic abundance and natural medicine.
Hemp contains powerful molecules called CBDs (cannabidiols) that may render over a dozen Big Pharma painkillers obsolete. No wonder the pharmaceutical industry doesn't want medical marijuana to become legal!
In addition, CBDs also have the potential to treat cancer, seizures, chronic inflammation, back pain, epilepsy and a long list of other high-profit diseases that earn billions for the drug giants and the doctors they bribe to keep pushing more toxic pills.
In every police state medical regime, all the most powerful natural medicines that could set the people free are systematically suppressed, criminalized and censored. The objective is to make sure the people remain enslaved to the medical system, trapped in economic servitude and medical obedience to pharmaceuticals, vaccines, addictive painkillers and toxic cancer treatments that cause more cancer.
All by itself, hemp could revolutionize medicine, agriculture and materials science, setting humanity free from a century of insidious oppression by evil governments and the greed-driven industries that control it.
In this powerful podcast, I reveal remarkable details about CBDs, medical marijuana and why we need solid science to help support quality control and safety for the CBD industry.
Learn more at Cannabinoids.news and NaturalNews.com