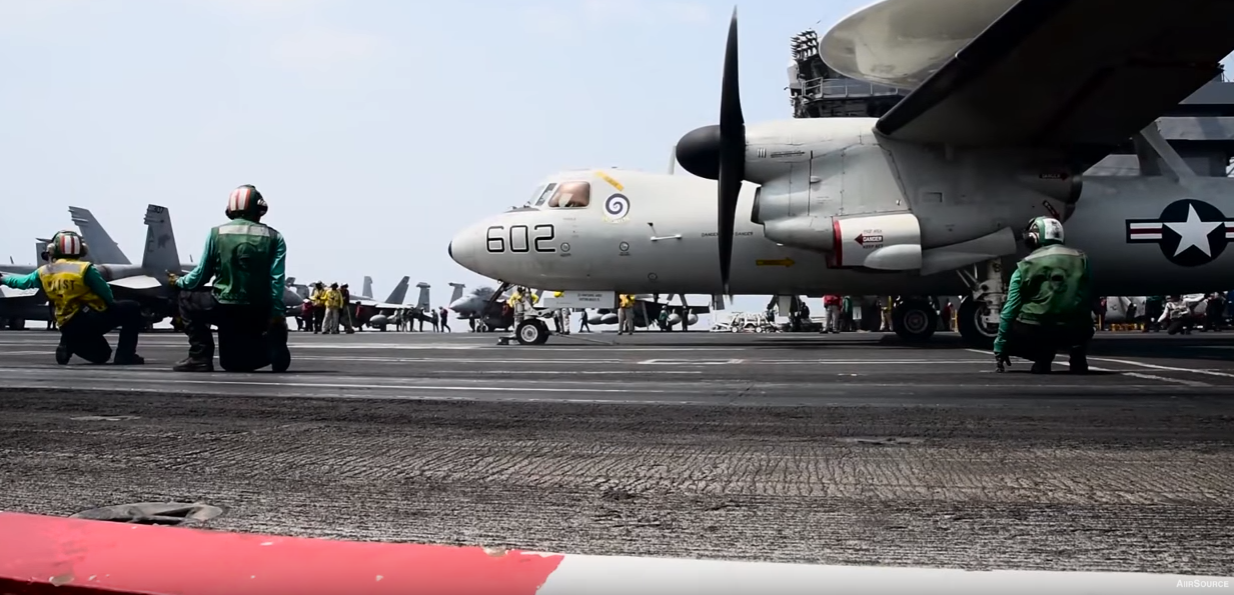 Three pilots have been awarded the US Armed Forces' Air Medal for valour after rescuing a plane when it fell off the end of an aircraft carrier runway.
After the plane had touched down an arresting cable snapped.
The Hawkeye was unable to stop before reaching the end of the aircraft carrier's runway leaving it to almost fall into the water.
The video of the incident shows the plane drop out of view off the end of the runway before managing to gain altitude and reappearing.
Lieutenant Commander Kellen Smith and Lieutenant Commander Thomas Browning were awarded their medals aboard the nuclear-powered carrier.
Lieutenant Matthew Halliwell was also awarded a medal but was not at the ceremony.
The award is presented for heroic actions or meritorious service while participating in aerial flight.
Lieutenant Commander Kellen Smith was the commander of the aircraft, he said:
"It was a bit of an eternity. But in that instant things just clicked. The training that we've done for years of flying, myself I've been flying for over 12 years now, we were able to hold our set attitude and Matt was able to expertly keep us climbing away and get us away from that water."
The E-2 Hawkeye is a twin-turboprop aircraft designed and developed during the late 1950s and early 60s for the US Navy.
Variants of the Hawkeye have been in continuous production since 1960, giving it the longest production run of any carrier-based aircraft.